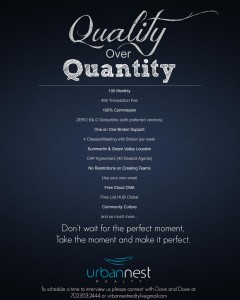 Our goal at Urban Nest Realty is to revolutionize the 100% office concept by having more brokers per agent than the industry standard allowing us to cultivate an environment where agents can flourish and improve upon their personal goals. We have a culture where agents can feel comfortable and protected but at the same time know that we always have time to sit down and discuss not only their challenges but also celebrate their success.
Summerlin office Location
3 Classes a week including Technology, Current Market & Forms
Low E & O Deductible
Lead generation opportunities and program Reciprocal/Satellite locations throughout the valley.
For a refreshingly real and honest interview and peek at what we are all about,
please feel free to contact us at 702.853.2444 or
urbannestrealtylv@gmail.com.
facebook.com/urbannestrealty