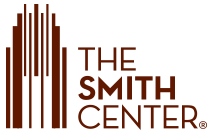 From the beginning, The Smith Center was envisioned as a world-class performing arts center that would develop and present the best and brightest in a broad range of first-rate programming and unite the residents of our community.
This cultural complex enables Southern Nevada to take its place on an international stage, celebrating artistic excellence, education and culture from around the world.
The center is located away from the Strip, near the heart of downtown. Its décor includes an Italian marble "grand hall" with art-deco touches such as three 19-foot chandeliers incorporating green glass, a mezzanine with aluminum railings and what Martin calls "a wedding-cake" tiered ceiling. Textured Venetian plaster is on some walls.
What some call the "Heart of the Arts in Las Vegas".  This magnificient structure hosts Reynolds Hall, Troesh Studio Theatre, Cabaret Jazz Theatre and Symphony Park!  Soon to open Kids Discovery!
Take full advantage of the Smith Center the cultural stamp it has made in Las Vegas is priceless to the community and will be around for many years to come.